The EndSARS protest which erupted last year (2021) was actively supported by many celebrities and politicians, especially the younger ones. One of the top active supporters of the EndSARS protest when it comes to celebrities is Peter Okoye of Psquare.
Psquare supported the movement that he, just like many other celebrities and protesters took to streets in the various states of Nigeria to protest against bad governance and to end SARS in the country. His support for the protest was great. Even after Mr. Macaroni was arrested few days ago for participating in the occupy Lekki toll gate protest, Peter Okoye MrP reacted, he also gave him home.
This morning, Peter Okoye made a revelation that seems that he is done with EndSARS protest. According to his tweet, he regretted partaking in EndSARS protest.
Peter Okoye feels bad about what happened to him last year, as well as what Dj_switch passed through over EndSARS protest. According to him, he is done. What caused this? You would ask, let me break it down for you.
Five days ago, Peter Okoye posted a tweet where he said that the so called leaders have really failed. According to the tweet, the leaders are only working for their own selfish interest and nothing more.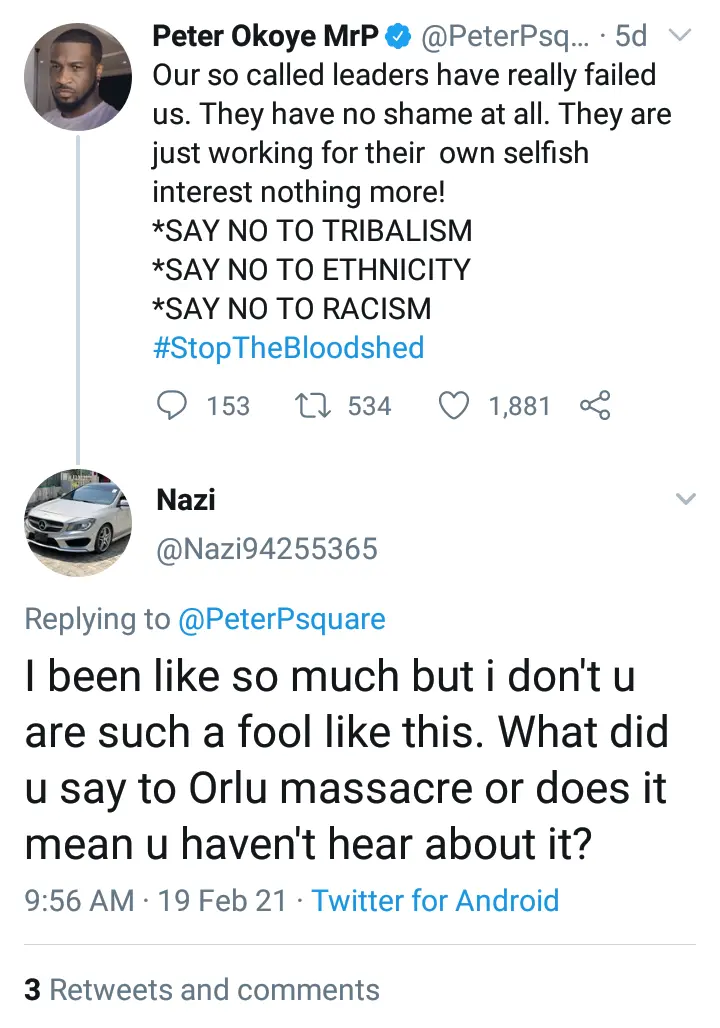 A twitter user known as Nazi attacked him. The twitter user said that he trusted him earlier, but he doesn't know that Peter Okoye has been a fool. He asked him what he said about the Orlu massacre. While responding to him, Peter Okoye made a little fun of him concerning his grammatical structures and blunders. He said that English is hard.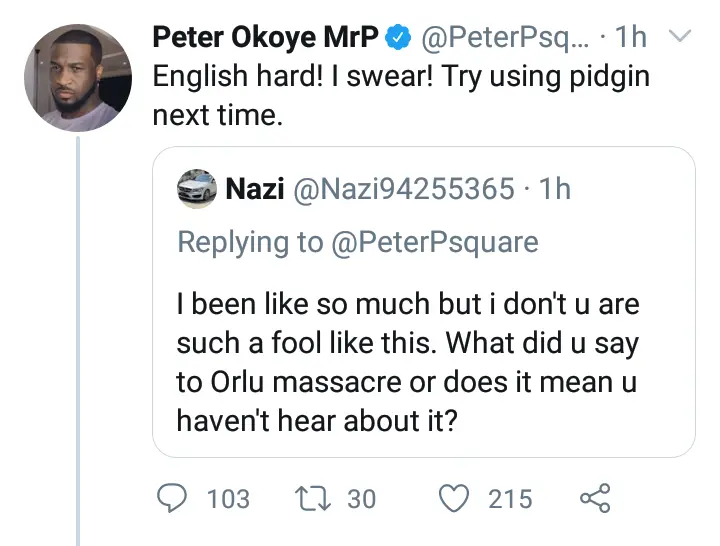 Another twitter user corrected Peter Okoye saying that the person's English may be poor but he has a point. He added that no matter how detribalised he may want to be, he must be reminded of his origin.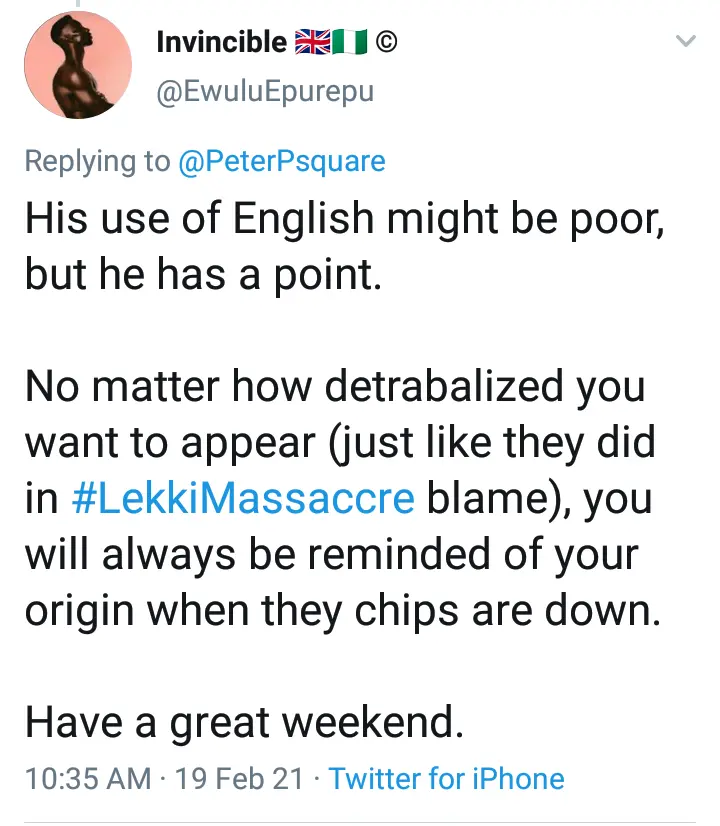 The response got Peter's attention and he reacted. He said that the twitter user has no point to make as suggested by "invisible." He asked if he made a point by calling him a fool. He added that probably, he didn't check his post on Instagram to check if he actually condemned the Orlu massacre.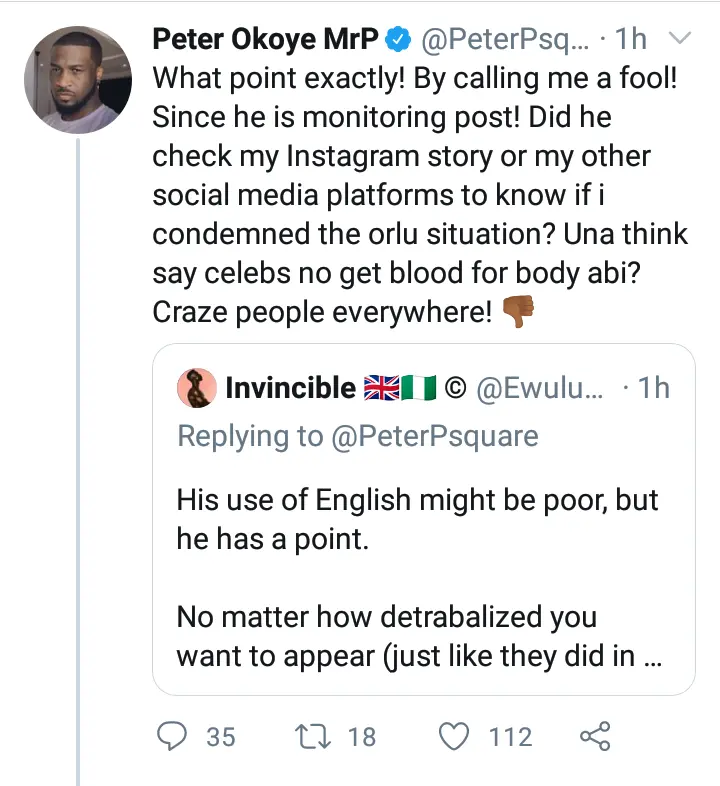 Another person defended Peter Okoye saying that people are not supposed to be pointing fingers on celebrities as they are also humans.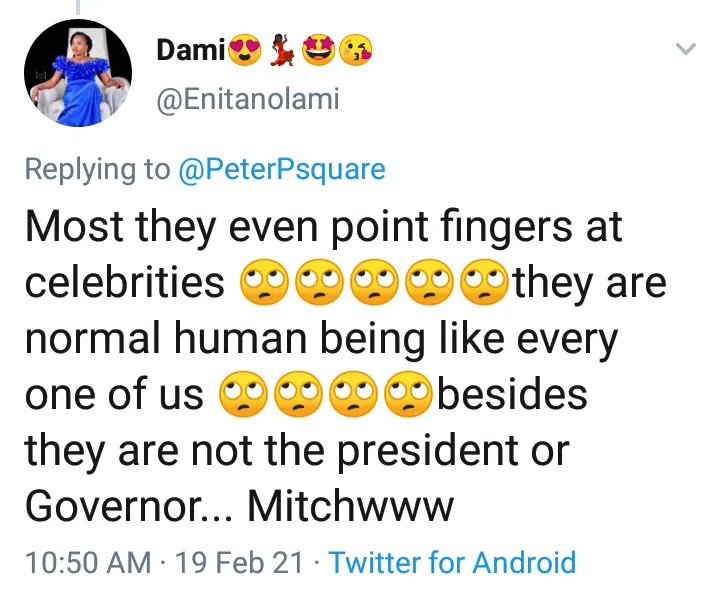 Peter Okoye responded to her, saying that few days to the protest that took place on 13th of February 2021, he was called an IPOB, then 2ndays ago, he was called a Fulani simply because he said no more bloodshed.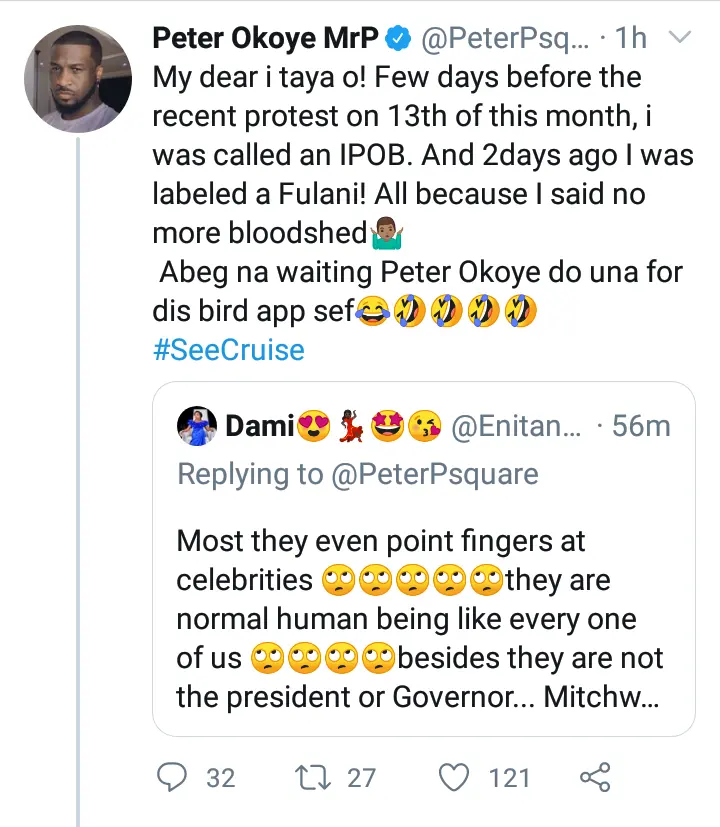 Another girl backed up the previous comment which said that celebrities are human. She said that everyone is facing celebrities whereas some of them can't even speak to their local government chairmen or even the governor of their various states.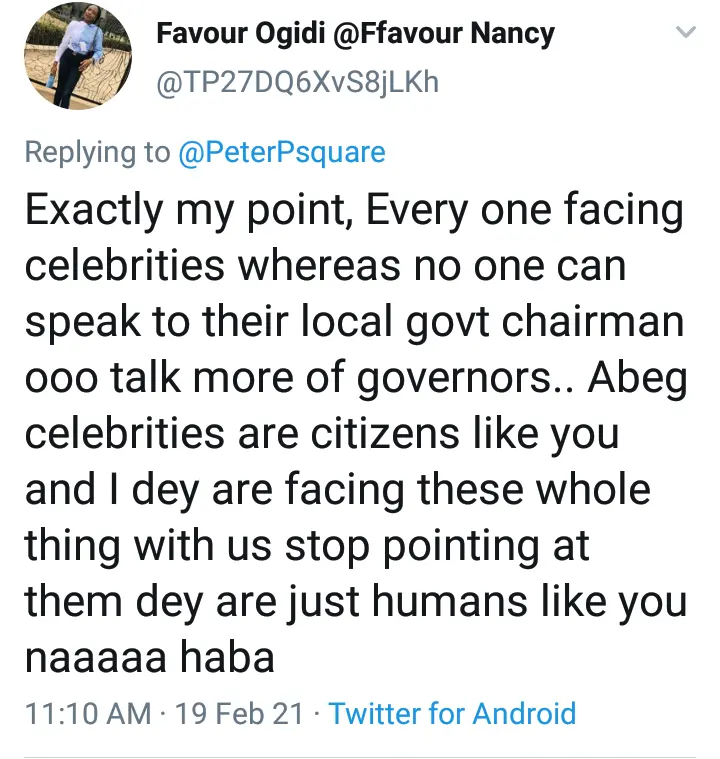 Replying to this post, Peter Okoye said that he has zipped his mouth as he won't say anything concerning the Incidence again.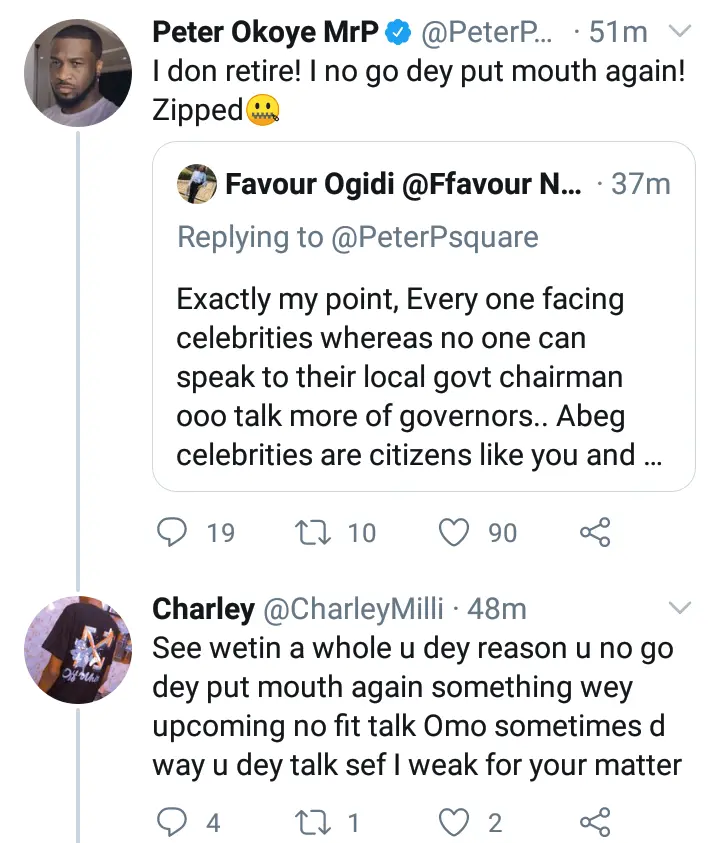 Another man sided Peter Okoye. He said that he has been speaking up in Nigeria and some people have been calling him out for speaking up. He claimed that Peter Okoye has put his life for the country, yet, some ungrateful ones still say nonsense about him. He advised that the best thing for him to do is to stop talking and mind his business.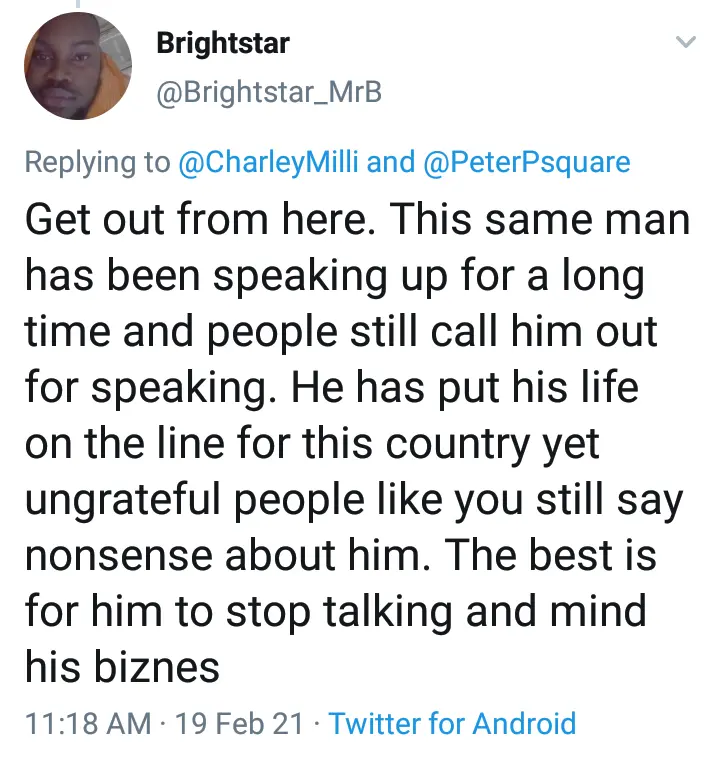 Peter replied him saying that he is done.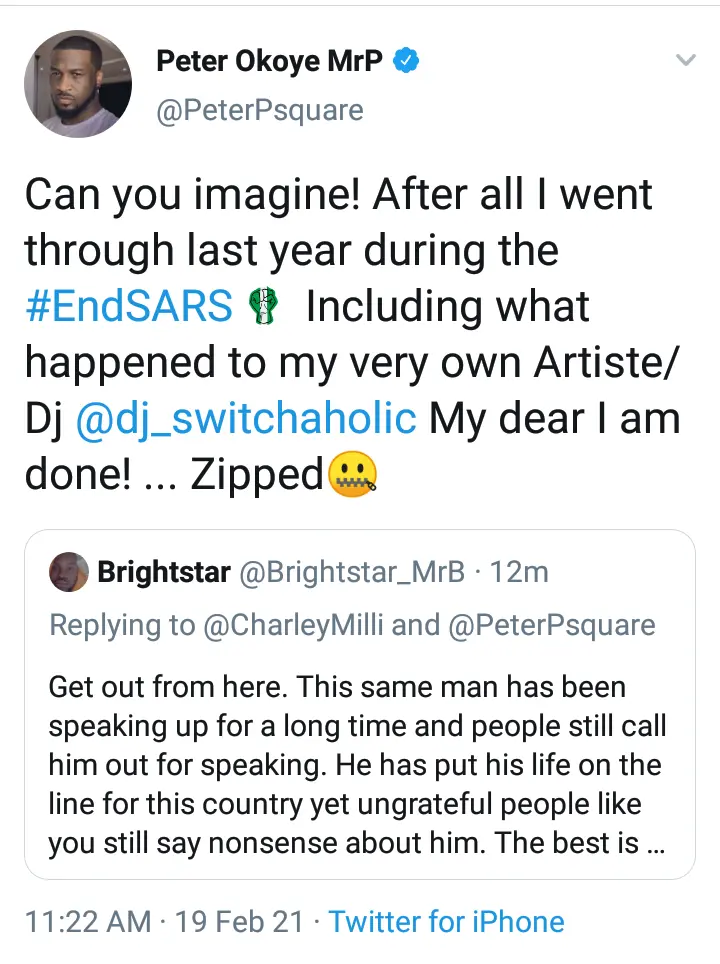 Many people reacted to this tweet. Someone told him that his problem is pride. While another person said that Nigeria is not worth dying for.