It is no longer news that the West African Examination Council (WAEC) publishes the names of outstanding students in its WAEC results every year who have excellent grades in all subjects.
Recently, in all of the subjects in WAEC, a girl whose name is "Ogwubie Chikemzi Praise" got a A" score. She is from the state of Rivers, according to sources.
Igbos are very intelligent, though, kindly check out the best WAEC students from 2019-2020 overall.
Here are the overall best "WAEC" students from 2019-2020.
1. Ogwubie Chikemzi Praise.
She is from Choba community in Rivers State, her recent WAEC result attracted a lot of questions whether it's possible to obtain such a result. She got an "A" grade in all her subjects.
here is a photo of her WAEC result.
2. Stephany Chizobam Ugboaja and Favor Alozie.
These two students scored 'A1' in all the subjects they wrote during the 2019 WAEC exams. They were awarded a scholarship by Emeka Ihedioha who was the former governor of Imo state. The two students are from Imo State.
Here are their WAEC results.
So, I believe that igbos are really intelligent and sometimes, they produce students that emerge as the overall best "WAEC" students.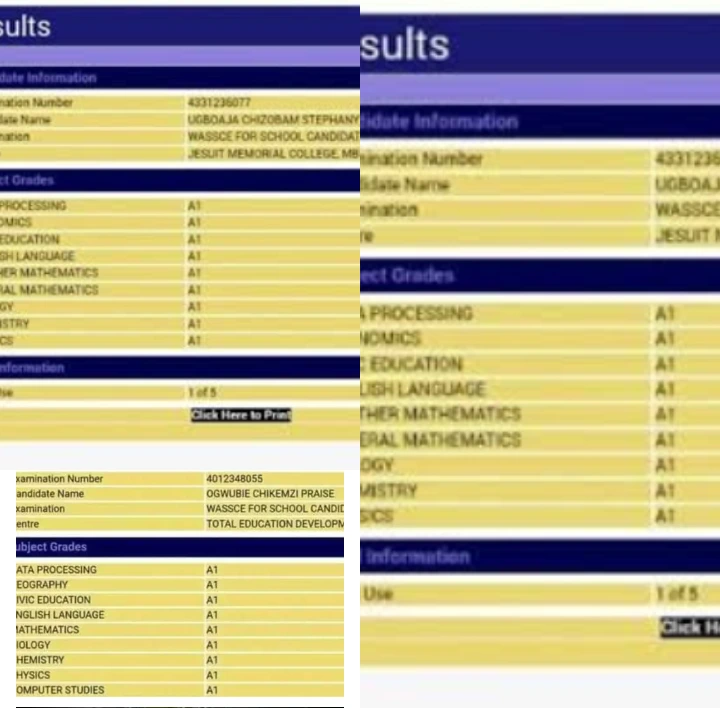 What do you think about these overall best WAEC students?.