Popular Catholic priest reverend father Kelvin Ugwu has cleared the air that he is not scared of the threat he's receiving from people for calling Odumeje a clown says insist Odumeje is not a Christian and not a liquid metal but a plywood.
According to him, he has received numerous threats amid his words on social media and he is not going back to what he said earlier.
He said: In my village in Enugu, there is a particular masquerade that comes out only at night and it is not to be seen by women. If a woman sees the masquerade, something will happen to her and she will surely die.
I was curious to know what is in the eyes of women that makes them die at the sight of the masquerade whereas that same thing is not in the eyes of the men. I was also curious to know if it has ever been recorded that a woman truly died for simply seeing the masquerade.
I remembered asking my grandmother those questions. My grandma is still alive. She is now the oldest woman in the village. She is estimated to be over 100 years of age.
She told me that in truth, there was a woman that died upon seeing the masquerade. She told me how the woman was consumed with fears after seeing the masquerade accidentally. How she ran from the point where she saw the masquerade to the nearest house which was over an hour journey. How she kept shouting: "I am finished. . . I have seen what I am not supposed to see. . .someone help me!"
When she finally got to a nearby house, she collapsed. Everyone was scared to come close to her because according to them, she committed a big abomination. No one had any doubt about the fact that the woman will die, including the woman herself. And before daybreak, she died.
The story went around that she saw the masquerade she was not supposed to see and that was what killed her.
So, I asked grandma again, "what was the Blood pressure level of the woman?" Grandma could not answer. "Has she ever ran for one hour non-stop?" Grandma could not answer.
Well, I concluded that what killed the woman was fear, the same fear the people put in her that seeing the masquerade will kill her. Again, she must have had high blood pressure and finally died of exhaustion from running nonstop for more than an hour.
I made this conclusion because grandma told me about another woman who saw the masquerade but did not die. They waited for three days and she was still alive. And on the fourth day, she was reported dead.
My Uncle, the first son of my grandma, was there listening to us. He was the one that told us that it was those in charge of the masquerade that went to the woman's house at night and strangled her to death, that this has been kept as a secret."Why did they kill the woman?" I asked.. he said because she is supposed to die. And if she did not die, people will start doubting the story of the fact that the masquerade is not supposed to be seen by women.
Every story in Africa's traditional religion (ATR) is usually colored with some of these lies to ignite fears. With fear, there is compliance to anything. What often kills people is fear. That is the whole psychology behind everything in ATR. Why is the shrine decorated with human skulls and fearful animals? The moment you can overcome that fear, even if you like to burn down their shrine or kiss the masquerade at night, nothing will happen to you.
So, when you come to Africa and attend Church service and you hear the pastor or priest telling you that you will die or you won't progress if you did not pay so and so, or you will die or become useless the moment you challenge his authority, just know such mentality was borrowed from ATR.
Just a small post that I made yesterday about the man you people called liquid plywood or metal, I am getting threats that something serious will happen to me. And funny enough, if you start believing such nonsense, even when you feel headache, you will see yourself in panic as you start attributing it to their so-called "curse".Any Christian denomination in which they keep igniting fear on you instead of faith, s strictly speaking not a Christian denomination.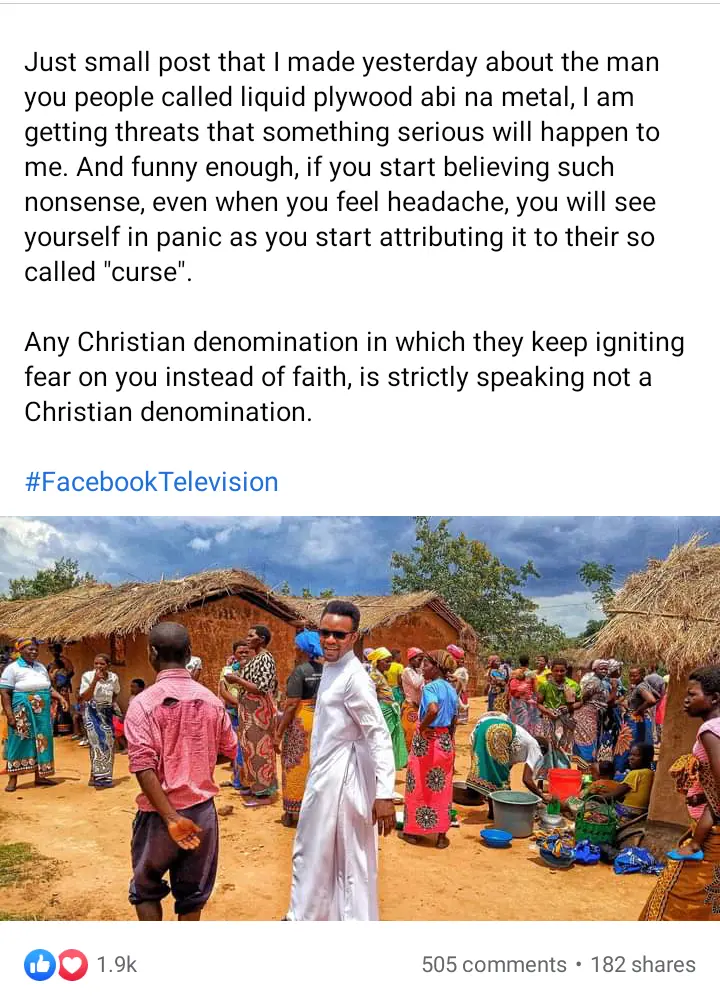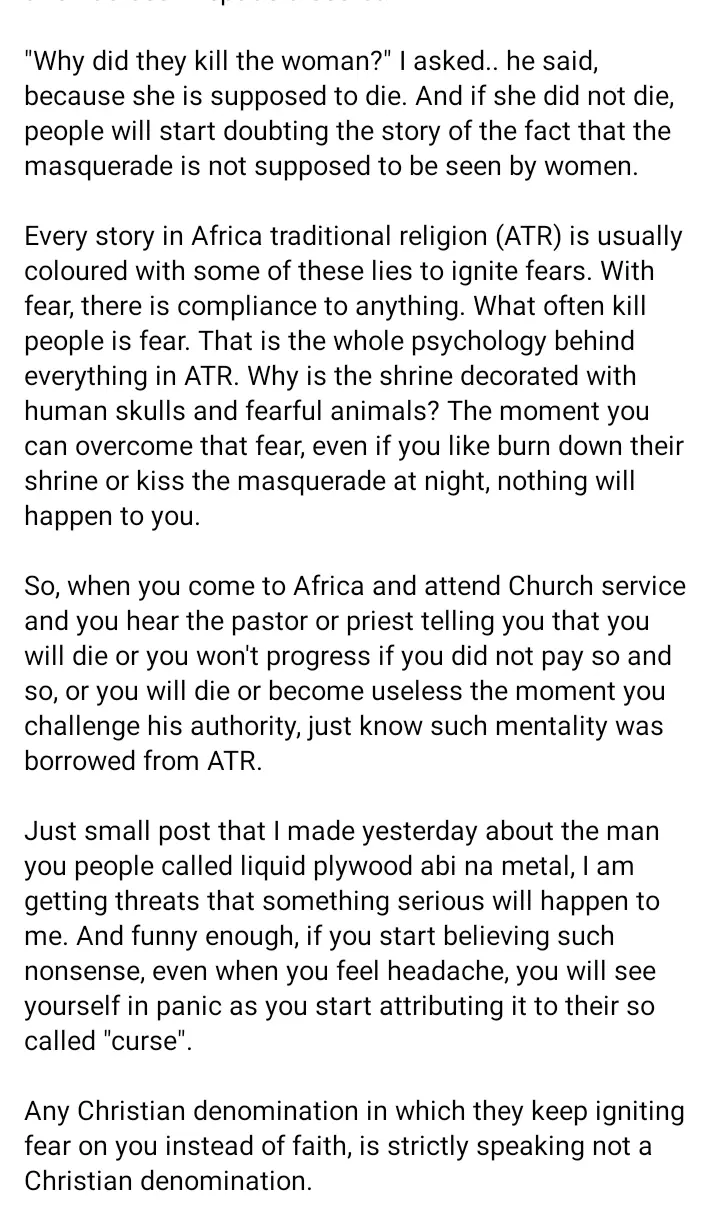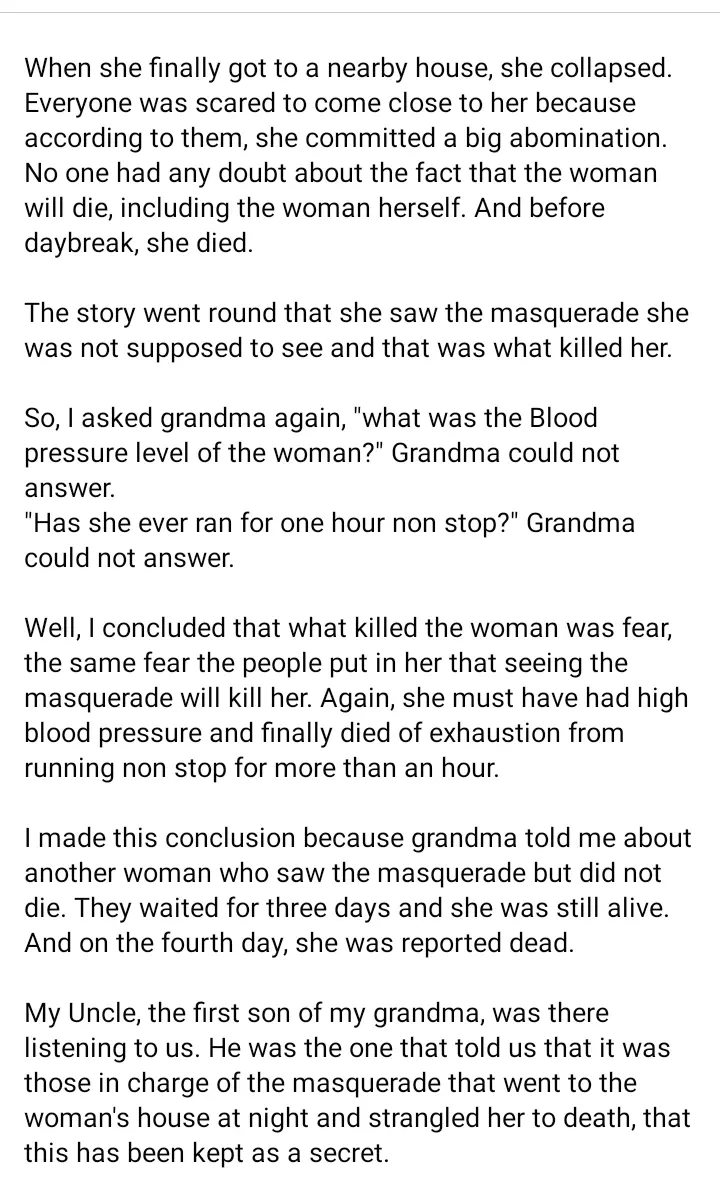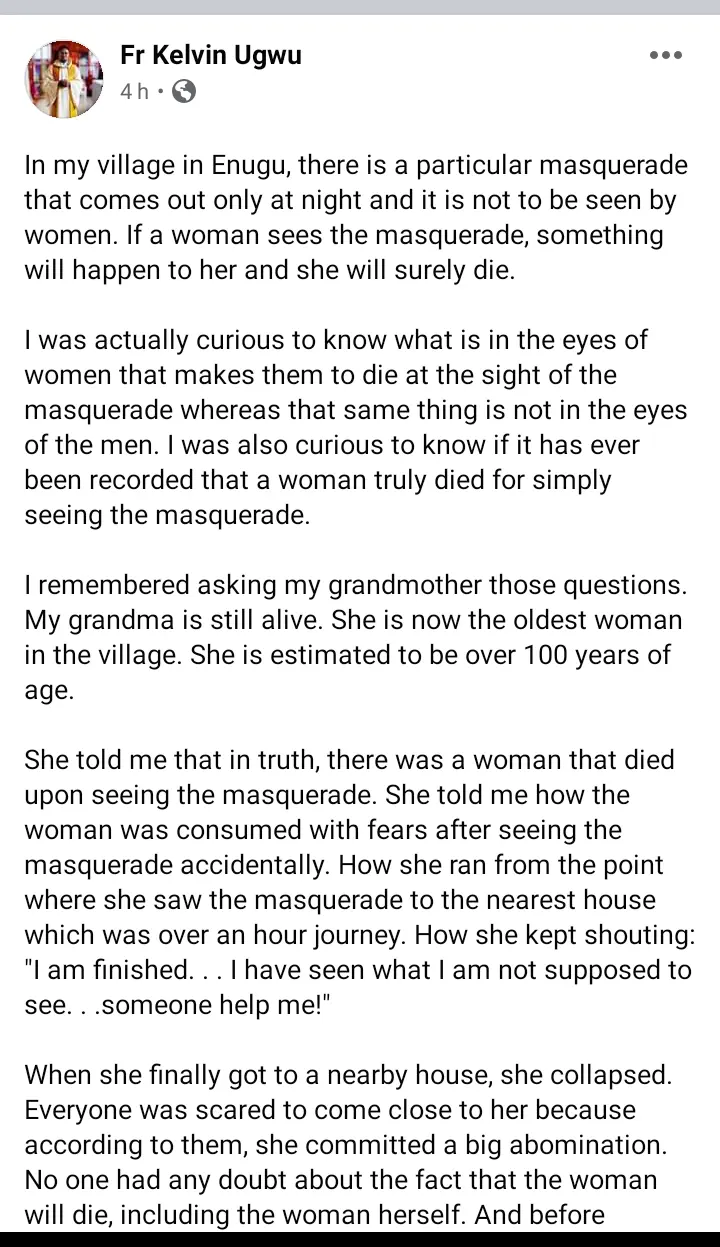 many have also gone to the comment section to agree with him that a real Christian must have a forgiven spirit. Check some of their comments below.