<1
The clamour to restructure Nigeria and its federating units has now reached a crescendo. The National Assembly; has eventually agreed to the cries of the masses –especially from Sen. Eyinnanya Abaribe of the (PDP) who made the call in November 2020 for debate and review of the 1999 constitution. The Senator is quoted as saying "Can we have a conversation among ourselves to know actually who is a citizen of Nigeria and determine for ourselves how our commonwealth will not be shared in this lopsided manner?"
The NASS is the only constitutionally recognized body saddled with the powers to enact laws and review the constitution. In a statement to announce the constitutional review process, the National Assembly implored the "General Public, Government functionaries, civil society/Interest Groups, Professional Bodies, and other interested persons to a 2-day Zonal Public Hearing on The Proposed alteration to the Provisions of the Constitution of the Federal Republic of Nigeria , 1999."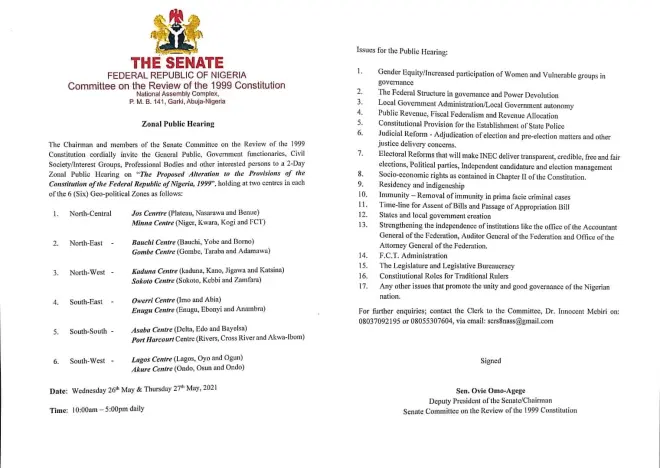 The public hearing is organized by the National Assembly Committee on the Review of the 1999 Constitution. The debate is open to members of the public which means every Nigerian can make contributions to the review process. This is expected to start on the 26th and 27thof May for a period of two days. The hearing will be held in two venues in each of the six geo-political zones.
There are seventeen areas itemized to be debated for review this includes
1. Gender Equity
2. The Federal Structure in governance and power devolution.
3. Local government administration
4.   Public Revenue, fiscal Federalism and Revenue Allocation.
5. Establishing State Police
6. Electoral reforms
7. Residency and indigeneship
8. Removal of immunity
9. Judicial Reforms
10. Socio-Economic
11. Timeline for ascent of bills
12. FCT administration
13. The legislature and
14.  Constitution roles for the traditional rulers
15. States and local government creation
16. Strengthening the independence of the accountant general of the federation.
17.  Any other issues.
The call for restructuring has been growing for several years now well before the President Buhari led administration came into office. It can be recalled that the clamour started with 'resource control' right from President Obasanjo through to President Yar Adua administration. However, the last six years of this administration the demand has morphed in outright review of the union of the federation. The wanton killings, kidnappings, banditry, Islamic terrorism has gone completely out of control totally exposing the inefficiency of our security agencies, local authorities and indeed state governors.
The general consensus is that the Nigerian federation will be a healthy union with the application of devolution of powers from the centre to the state and local government. The issue of resource control will addressed with new perspectives on the issue.
With this announcement, it is expected that the 'Sorosoke' movement of young people will seize the opportunity to engage and make input in the course of the discussions to ensure a draft that reflects their expectations is achieved.