Dr. Hakeem Baba Ahmed Reacts After FFK Said His Brother Datti Should Be Deported Back To Mauritania
In a statement released by Ahmed Datti, the vice presidential candidate of the Labour Party (LP), while reacting to the statements against Peter Obi, by the APC Presidential candidate and his running, made a mistake as he unknowingly said" We will sympathize with Peter Obi and we won't hold it against him".
While reacting to the statements made by Datti Ahmed, Femi Fani Kayode, the Director General of the Tinubu/Shettima New Media for the All Progressive Congress (APC) Presidential campaign council, while reacting to the mistake made by Ahmed Datti, released a statement via his twitter handle where, as he stated that Datti Ahmed should be deported back to Mauritania. Reacting to the statement made by FFK, Dr. Hakeem Baba Ahmed, released a statement as he said that Femi Fani Kayode are among those who are not worth insulting back.
Below is the screenshot of the original statement released by Dr. Hakeem baba Ahmed;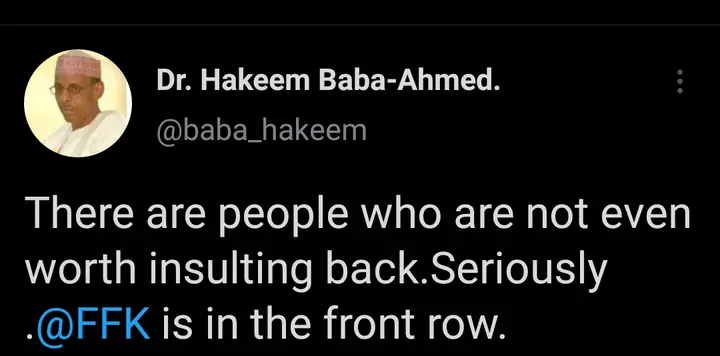 What do you have to say about this?