Sani Abacha Was Never In Good Books Of The West, How Did Such Monies Got There? – Shehu Sani
The former senator that represented the good people of Kaduna Central Senatorial Zone, Senator Shehu Sani, has asked an important question, so as to know those who helped the former military head of state, Late Gen Sani Abacha, to move money to western countries, because he was never in good books of these western countries.
According to a tweet he made on his verified twitter handle, Senator Shehu Sani noted that Late Gen Sani Abacha was never in the good books of the western countries, recalling that Nigeria was literally under sanction and that he never visited the west throughout his five reign.
Furthermore, Shehu Sani asked to know how such monies got to the western countries and to also know those who were the hidden hands behind all these. Ending his tweet, he made it known that only Abacha's name is being mentioned every time.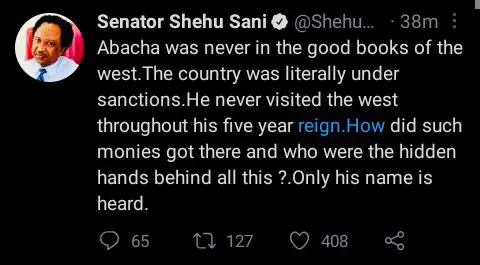 Since the General Sani Abacha died in June 1998, million of dollars looted by this former military head of state have been recovered in different parts of the country. Uptill now, it is believed that there are still some of the Abacha's looted funds that are yet to be recovered in one of these western countries.