The Report Of Obi Saying That He Doesn't Believe In The Northern Oil Project Is False – Labour Party
Reports have been making rounds on social media about an allegation made against the presidential candidate of the Labour Party, Peter Obi.
It was said in the report that Peter Obi was addressing the journalist during his visit to Ibadan for the Labour Party rally when he said that he doesn't believe in the northern oil project.
Recall that many Nigerians are reacting to the report that the oil drilling project has started in the northern part of Nigeria in the areas of Bauchi and Gombe. President Buhari had earlier paid a visit to the scene where he gave a go-ahead order to the project.
The alleged statement said to be made by Peter Obi has stirred dozens of mixed reactions on social media.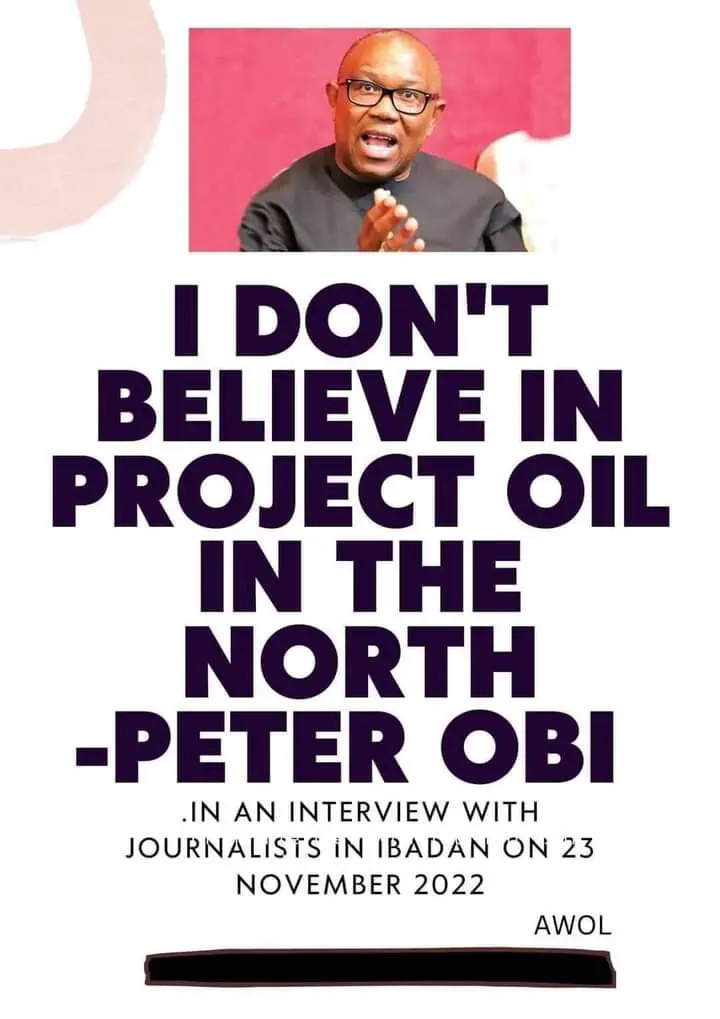 (The alleged report making rounds on social media)
Reacting to this development, Oseloka Obaze shared a message from Peter Obi's campaign team, stating that the allegations are false as Peter Obi never addressed journalists during his outing in Ibadan.
His tweet reads;
"The attention of the Obi-Baba -Ahmed Campaign Org. has been drawn to this mischievous flyer being circulated in the NW & NE zones. While in Ibadan on 23/11/22, Mr. Peter Obi did not speak with journalists nor did he mention any such issue while speaking at the rally. Pls, ignore."