Tinubu Faces Disqualification Over Perjury, Certificate Forgery [COURT DOCS]
Fresh Court Documents have indicated that the Presidential Candidate of the All Progressives Congress, APC, Bola Ahmed Tinubu may be disqualified from the 2023 Presidential Elections.
According to West Africa Weekly, Tinubu was recently dragged to a Federal high court in Abuja by a lawyer and civil advocate Barrister Mike Enahoro-Ebah for allegedly committing Perjury in his Independent National Electoral Commission (INEC) Form EC9.
Information contained in the court documents reveal damning evidence of wrongdoing by the APC presidential candidate including document forgery, perjury and potentially even an instance of identity theft.
It was discovered that Tinubu's INEC Form EC9 (AFFIDAVIT IN SUPPORT OF PERSONAL PARTICULARS – Particulars of persons seeking elections to the office of President of the Federal Republic of Nigeria) contained a lot of discrepancies in the aspect of his Date of Birth, Academic Records, Citizenship and Identity records.
Date Birth
Court Documents reveal that Tinubu, on his EC9, Tinubu gave his date of birth as March 29, 1952. However, Tinubu who claims to be an alumnus of Chicago State university, had a different date of birth on the university's records.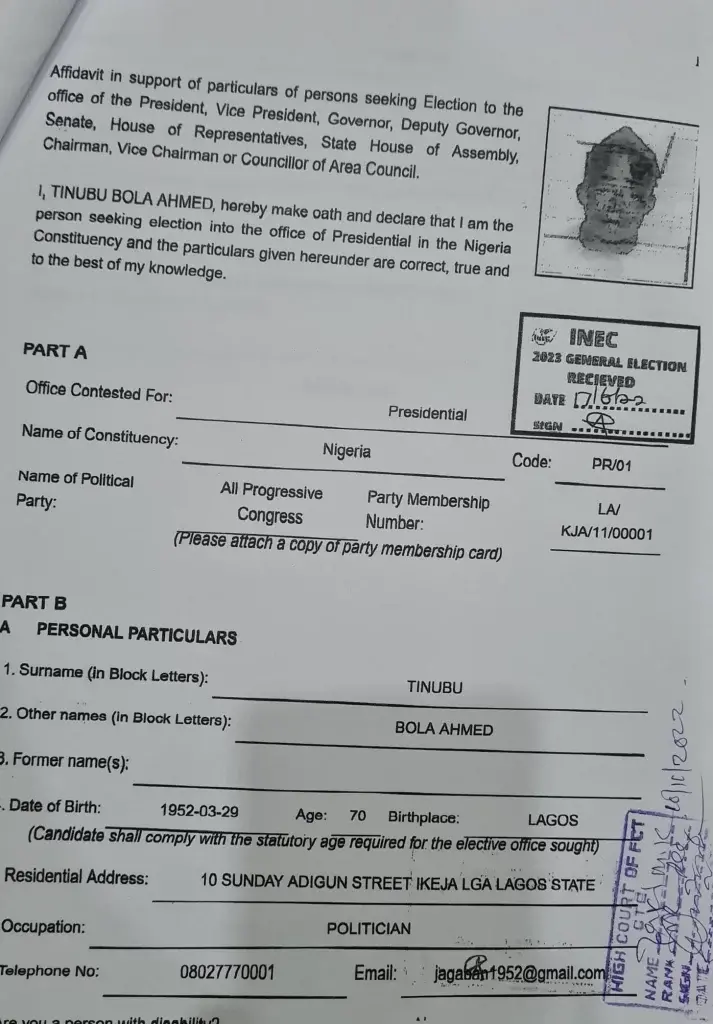 Below is his subpoenaed records From Chicago State University as contained in Court Documents;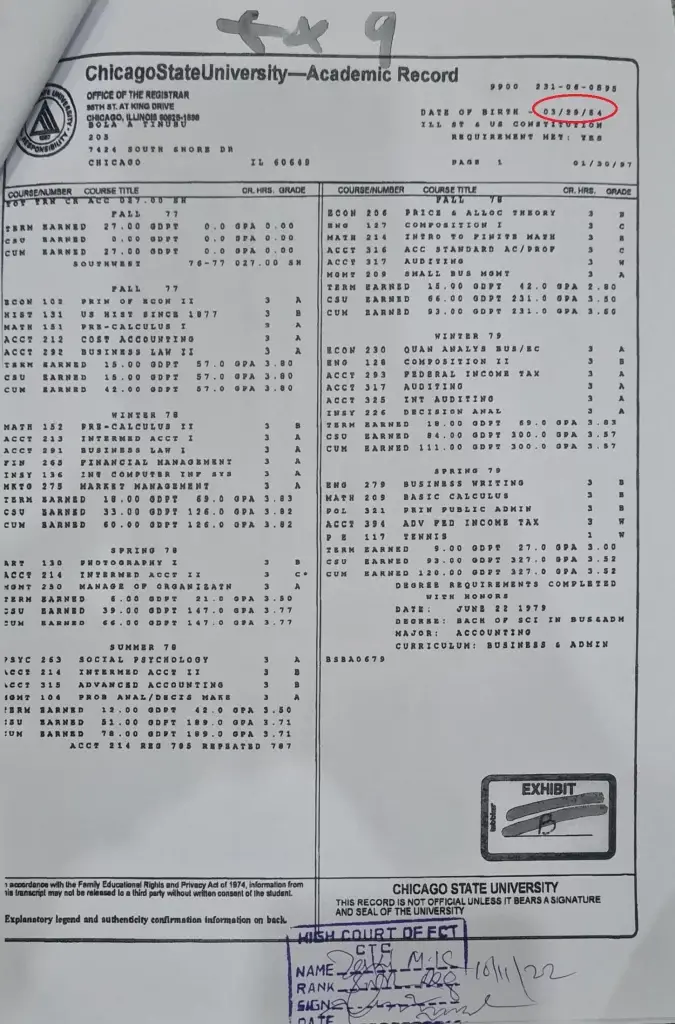 Furthermore, Tinubu's EC9 contained no details of any secondary school attended in Nigeria.
Citizenship
Court documents reveal that Tinubu indicated in his EC9 form that he has no other citizenship or nationality other than Nigerian as can be seen below;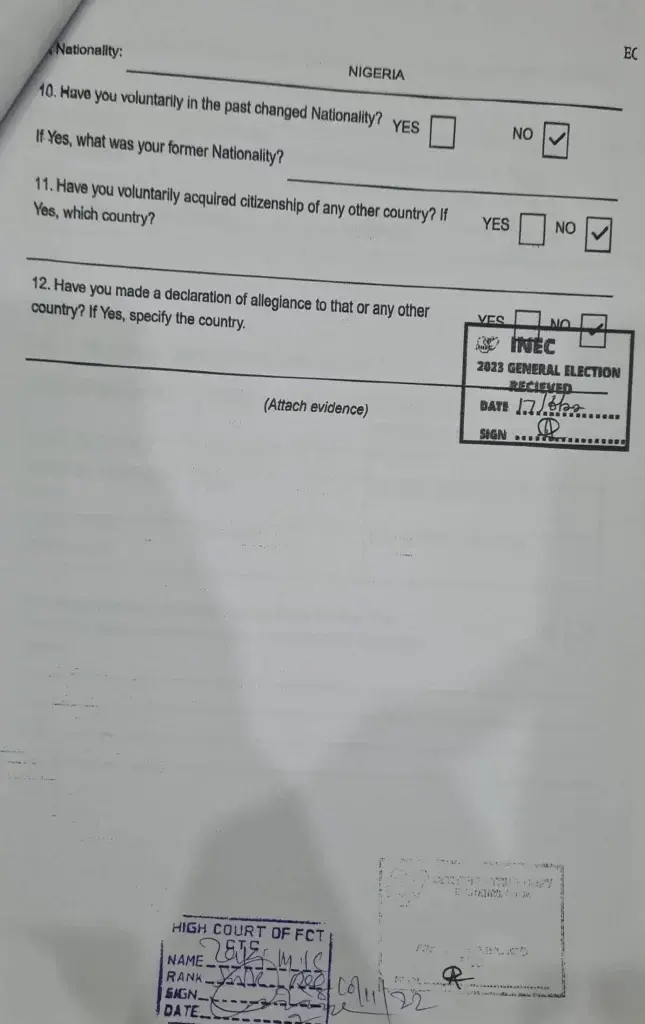 However, University records show that Tinubu registered as a 'Black American'. It should be noted that Section 137 of the 1999 constitution precludes certain public office holders including the president, state governors and members of the Senate and Federal House of Representatives from holding dual citizenship. What is known for a fact in any case, is that if Tinubu was indeed "Black American," i.e. in possession of U.S. citizenship, that would mean that he committed perjury by failing to declare it on his EC9.
Identity
An Academic Transcript from Chicago University which was part of Subpoenaed documents from the institution also highlighted another major problem in Tinubu's credentials.
The transcript for "Bola A. Tinubu" from Southwest College (later renamed Richard J. Daley College), which was used to process the ex-governor's admission into the university registered the sex of "Bola A. Tinubu" as 'Female' with an "F."
This can be seen below;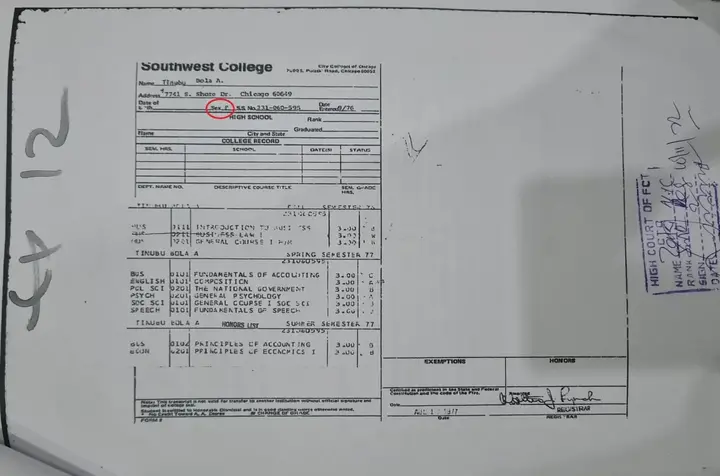 West Africa Weekly reports that the University disclosed that it possessed no records that contain clear information about who exactly "Bola A. Tinubu" was. No passport, no visa, no social security card, and no driver's licence.
More on Certificate Forgery is Contained in the Full Court Documents below;
What does the Law Say?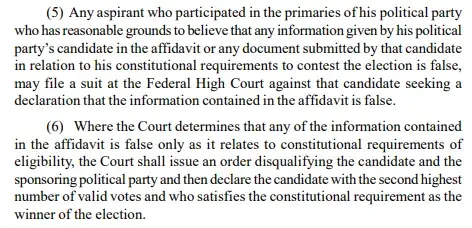 Under Section 29 of Nigeria's Electoral Act, 2022, providing false information on Form EC9 constitutes grounds for disqualification for an election provided another contestant files a suit at the Federal High Court seeking to declare the information provided as false.