See Reasons Igbos Attach 'Chi' In Their Names
The Igbo people which dwells in the South Eastern part of Nigeria in West Africa continent believed in divinity of God.
According to Igbo hierarchy, Chukwu is the greatest of all, while Ala (mother land) follows before Chi and so many others like Ikenga, Amadioha and the less.
If you' re a good observant, you would' ve noticed that Igbo names always have " Chi" or " Chukwu" in most of their name prefix, suffix or in the middle. For example; Chukwu- Emaka, Chi- nenye, Ugo- Chukwu, So- Chi- ma, Somto- Chukwu, Chi- Ka, Kamsiyo- Chukwu, Chi- nedu, Chim- diebube, Chim- amanda etc. . .
Chi and Chukwu are very different from each other.
Chukwu means " Great Chi" or it also mean " Great Spirit" . While Chi itself, is a fractal representation of Chukwu that resides in each every human being. It' s a spirit that leaves in every individual person. That' s the most reason many Igbos usually add Chi to their names.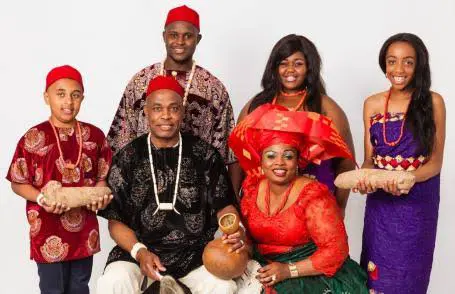 Chi is regarded as the most important divinity of God, because it' s what guide every individual' s action.
Chi as Igbos believed is a personal God. It is a spirit that direct and guide every individuals on how to reason and take decision in life.
In most cases, Chi is also regarded as " Obi" which correct English translation is either Soul or Mind.
The Igbos believes that everything that comes out of human Mind or Soul is a direction from his or her Chi.
However, from the above descriptions, you can now understand the reason why the Igbos names mostly attached with Chi in either prefix or suffix of their names. And those names have great meaning, e. g Onyinyechi means, " God' s gift or Gift from God" , Chimmaobim, means God knows my mind, Chimamanda " My God would not fall" et al.